LORO-X Series 43 model with basin and lowered double pipe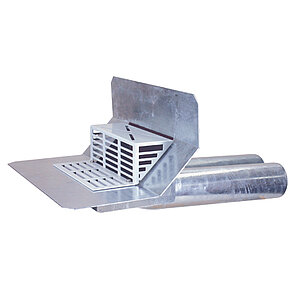 The models with basin and lowered double pipe offer the highest discharge rate with silent gravity flow.

The two adjacent and lowered drainage pipes in the basin accelerate the water over two stages and parallelly transport it from the roof through the two drainage pipes.

Together with the special double pipe sliding flange for the vapor barrier and the double pipe collecting box with transition to a single downpipe in front of the facade, this model is suitable for large roof areas in the private or commercial area.
Application example Series 43 with basin and lowered double pipe
LORO-X Double pipe parapet-direct drain - with basin and lowered pipe -
made of galvanized steel, DN 100/DN 100


DN 100
for bituminous roofing sheets
01323.100X
LORO-X

Drain collector box

for LORO-X double pipe parapet-direct drains


DN 100
made of galvanized steel, DN 100
00440.100X
LORO-X

Sliding flanges

for LORO-X double pipe parapet-direct drains


DN 100
for connection of the vapor barrier, as fixed and loose flange construction, made of galvanized steel, incl. sealing elements
13228.100X
LORO-thermal insulation block

made of styrofoam SE WLG 0,35

Building material class B2
01321.000X