LORO-X Series 43 model with basin and double pipe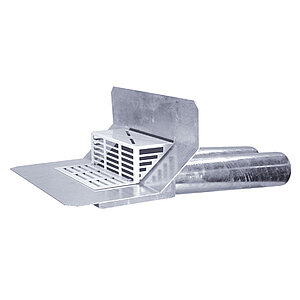 The models with basin and double pipe offer a significantly higher discharge rate with a reduced depth of penetration into the roof.
Due to the two adjacent drainage pipes, the penetration depth can be significantly reduced compared to a single lowered pipe, yet with an equally high discharge rate.
Together with the special double pipe sliding flange for the vapor barrier and the double pipe collecting box with transition to a single downpipe in front of the facade, this model is suitable for medium-sized roof areas in the private or commercial sector.
Application example Series 43 with basin and double pipe
LORO-X Double pipe parapet-direct drain - with basin -


made of galvanized steel, DN 100/DN 100


DN 100
for bituminous roofing sheets
01320.100X
LORO-X

Drain collector box

for LORO-X double pipe parapet-direct drains


DN 100
made of galvanized steel, incl. sealing element
00440.100X
LORO-X

sliding flange

for LORO-X double pipe parapet-direct drains for connection of the vapor barrier, as fixed and loose flange construction


DN 100
made of galvanized steel
13228.100X